Astrophysicists are using a novel 3D computer visualization technique to help them understand the role of gravity in the formation of vast, stellar nurseries, also known as molecular clouds.
Computer simulations are critical tools in understanding the behaviour of these clouds and of star formation, explains Alyssa Goodman of Harvard's Faculty of Arts and Sciences. They are the only method by which astronomers can watch what happens over the millions of years it takes to form a star.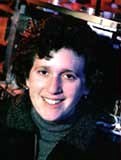 Earlier models of star formation assumed that because gravity is a relatively weak force over large distances that its effects would be negligible in these clouds until the particles are very close together. These earlier models thus explain accretion of particles prior to star formation based on turbulence rather than gravity. Once denser groupings of molecules are formed and gravity becomes a factor, they attract more and more particles until either something disrupts them or they have enough mass to collapse and form a star.
However, Goodman and colleagues have examined the process up to the point where the dense groupings form. Their analysis shows that, rather than turbulence being the only significant force pushing these gas molecules around, their gravitational influence on each other is also significant. That finding means that existing models, which leave gravity out until very dense clumps have formed, would over-predict the rate of star formation in these clouds.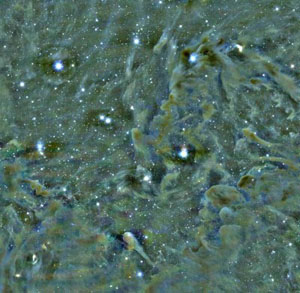 The team developed imaging technology borrowed from medicine to visualize the molecular cloud in three dimensions and applied a new computer algorithm that creates a dendrogram, This branching representation of the astronomical data from COMPLETE (COordinated Molecular Probe Line Extinction Thermal Emission) Survey of Star Forming Regions, allowed the researchers to build a sophisticated 3D display of the data, which they could then rotate and examine from many different angles.
Goodman explains that the earlier modelling technology ignores hierarchical structure, regions within regions, and so obscures specific details of the molecular clouds, such as nested areas of varying density and physical breaks from one area to another. There's no way of noticing this without being able to see this in 3-D, she says.
Further reading
Nature, 2009, 457, 63-66
http://dx.doi.org/10.1038/nature07609
Alyssa Goodman homepage
http://www.cfa.harvard.edu/~agoodman/
Suggested searches
stars formation