Deposits of distorted or otherwise errant proteins are key to understanding various brain diseases including Alzheimer's, Parkinson's, and the prion disease variant-CJD, they are also implicated in the pathology of type II diabetes. However, while such amyloids are a medical nightmare, researchers in Israel suggest that outside the body, synthetic versions of these substances could help us design a whole new range of nanomaterials and biomimetic plastics.
"The potential applications of these supramolecular assemblies exceed those of synthetic polymers," explains Ehud Gazit of Tel Aviv University, writing in the current issue of Angewandte Chemie with co-author Izhack Cherny. "The building blocks may introduce biological function in addition to mechanical properties, he adds.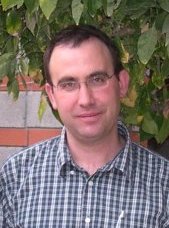 While the focus on amyloids is usually on their pathology, even in nature they are not always abnormal, misfolded proteins, they do have physiological roles in some organisms. For example, amyloids are an important protective material in the egg envelopes of insects and fish, they help form bacterial biofilms to protect a colony from natural antimicrobial substances that the bacteria may encounter, and they also allow such blooms to attach themselves to surfaces more effectively.
Technically speaking, amyloid fibrils are usually bundles of highly ordered protein filaments composed of ladder-like strands that can stretch to several micrometres in length. In cross-section, amyloids look like ribbons or like hollow cylinders. But, it is their resemblance to synthetic polymers (plastics) rather than their proteinaceous properties that drew the attention of the researchers in Israel.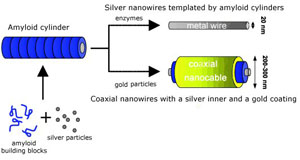 Amyloids, for instance, are almost as strong mechanically as spider silk and by turn spider silk, weight for weight, is stronger than steel. They can also be stretched to many times their original length without splitting. Both properties are inaccessible to scientists working with synthetic polymers, but both properties are highly desirable for a wide range of engineering and technologies.
"The self-assembly properties of amyloids, together with their observed plasticity, makes them attractive natural building blocks for the design of new nanostructures and nanomaterials," Gazit explains, "These building blocks can be broadly varied by means of simple molecular biological techniques." The products might be used in novel sensors, tailored, biocompatible coatings, as enzyme mimics for speeding up chemical reactions, and for constructing nanoscale wires filled with silver and coated with gold for molecular electronics applications.
Further reading
Angew. Chem. Int. Edn, 2008, 47, 4062-4069
http://dx.doi.org/10.1002/anie.200703133
Prof. Ehud Gazit homepage
http://www.tau.ac.il/lifesci/departments/biotech/members/gazit/gazit.html