Light-emitting diodes almost ubiquitously provide the illumination in electronics and potentially will provide energy-efficient brightness in our homes. However, the LED material of choice, gallium nitride, and its method of processing and manufacture into working devices is relatively expensive. Now, US engineers have developed a novel semiconducting material based on zinc oxide that could be used in a new type of LED that is just as effective but could reduce costs for a wide range of applications.
According to Deli Wang and colleagues at the University of California San Diego, an LED requires a positive and a negative semiconducting material. While n-type negative-charge carrying nanowires of inexpensive zinc oxide have been easy to make, the researchers have now synthesized nanoscale cylindrical wires of the material that can transport positive charges. These so-called p-type ZnO nanowires complete the circuit for making a new type of inexpensive LED.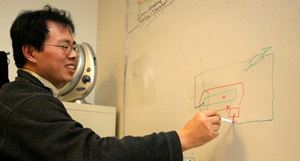 To make the p-type ZnO nanowires, the engineers doped ZnO crystals with phosphorus using a simple chemical vapour deposition technique that is less expensive than the metal organic chemical vapour deposition (MOCVD) technique often used to synthesize the building blocks of gallium nitride LEDs. Adding phosphorus atoms to the ZnO crystal structure leads to p-type semiconducting materials through the formation of a defect complex that increases the number of positive-charge carrying holes relative to the number of free electrons in the material.
Zinc oxide is a very good light emitter, explains Wang, Electrically driven zinc oxide single nanowire lasers could serve as high efficiency nanoscale light sources for optical data storage, imaging, and biological and chemical sensing. He adds that Zinc oxide nanostructures are incredibly well studied because they are so easy to make. Now that we have p-type zinc oxide nanowires, the opportunities for LEDs and beyond are limitless.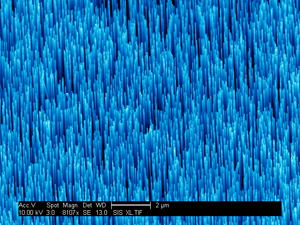 Wang and his colleagues at Peking University report their synthesis this month in the journal Nano Letters. A provisional patent application for p-type ZnO nanowires has been filed and Wang's lab is currently working on a variety of nanoscale applications for their nanowires. Transistors that use the semiconducting properties of zinc oxide are also on the horizon, Wang believes. p-type doping in nanowires would make complementary ZnO nanowire transistors possible, he explains.
Further reading
Nano Lett. 2007, in press;
http://dx.doi.org/10.1021/nl062410c
Deli Wang homepage
http://circuit.ucsd.edu/~dwang/
Suggested searches
light emitting diodes
semiconductors
nanotechnology